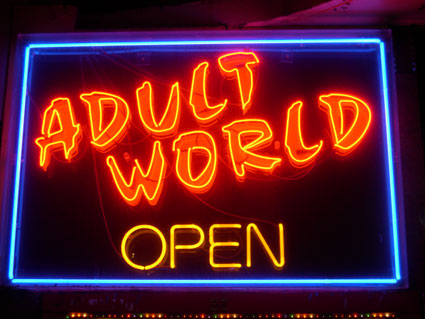 The highway has always been a symbol of fun, adventure, and new places. However, lately I've noticed the other side to the highway symbolizing one thing. Sex.
My husband and I just returned from our honeymoon, and we took a roadtrip to Tybee Island, Jekyll Island and he surprised me with a trip to Universal Studios for Harry Potter World. Yes, I know, I am a nerd. So, as you can imagine, we spent a lot of time driving on the highway and passing by billboards for, "ADULT WORLD EXIT 12". After the first trip driving by these billboards, I didn't think much of it. But, we drove by one billboard in particular with a woman's silhouette on a pole which read;
"NAKED WOMEN! TRUCKER DISCOUNT! TRUCKERS WELCOME! TRUCKER PARKING!"
When I saw this my heart broke. Maybe it's because I now work for LFI and therefore I am more sensitive to the sex industry. One thing I knew for certain was even if I personally destroyed that billboard, there would still be another one just like it a mile down the highway. I wanted to cry, my mind was racing with questions and solutions to making the highway less sexualized. The worst part was I couldn't stop thinking about all the families driving down the highway, who are also going to Universal Studios and young boys seeing the billboards. As a young boy would this spark something unhealthy? I didn't know. Or a truck driver who has a family, did this billboard just alter his marriage? I don't want to know.
As I was sitting in the hotel room in Orlando, I was crying out to God because I felt so troubled over what was pressing on my heart and didn't know how to fix it. I said, "Lord, what can I do?" and He said to me, "You can pray for them."Pray for them? I was hoping the Lord would say, 'Spray paint over the billboards and burn down what's remaining whenever you run out of spray paint!' or 'Start an organization and riot!', but instead He wanted me to pray. Perplexed, I opened my bible to, 1 Chronicles 5:20:
"They were helped in fighting them, and God delivered the Hagrites and all their allies into their hands, because they cried out to him during the battle. He answered their prayers, because they trusted in him."
The battle is against the sex industry and I am praying for the individuals involved, whether they are working within the industry or visiting. Praying for the sex industry littering our highways all over the world seemed hopeless. How do we pray for something so huge and expect the Lord to get the victory? Can't we just chop down each billboard? Nope. Then, the Lord reminded me of a Children's Church lesson I put together last year. The lesson was on 'The Armor Of God' and so I turned my bible to, Ephesians 6:10 'The Armor of God'
"Finally, be strong in the Lord and in his mighty power.  Put on the full armor of God, so that you can take your stand against the devil's schemes. For our struggle is not against flesh and blood, but against the rulers, against the authorities, against the powers of this dark world and against the spiritual forces of evil in the heavenly realms. Therefore put on the full armor of God, so that when the day of evil comes, you may be able to stand your ground, and after you have done everything, to stand….And pray in the Spirit on all occasions with all kinds of prayers and requests. With this in mind, be alert and always keep on praying for all the Lord's people."
The sex industry is not just a battle against flesh, but it is an entire ruler/authority/power itself and because of this we are supposed to put on the full armor of God. Then, after we do put on the armor we must pray for "all of the Lord's people", not just the families on the highway or the truckers, but for everyone involved. The more I have been praying for the industry as a whole, the better I feel and the more encouraged I am about the situation. Perhaps, God wanted me to be burdened by this in order to have one more person praying for everyone.
So, pray. Because, our God always gets the victory and no good will come from chopping down a billboard.  The Lord will answer our prayers just like he answered the Reubenites prayer in 1 Chronicles, we must trust in Him and continue praying.
Psalm 65:2 "You who answer prayer,
    to you all people will come."

POSTED BY STEPHANIE CARLSON