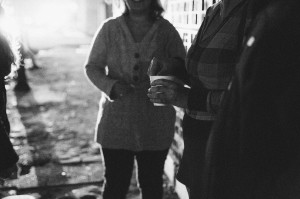 Writing papers about literary works, feminism, and cultural issues for college was part of my routine for several years. I tried so hard to convince my professors that my writing skills were worthy and my arguments were valid. I graduated from college some weeks ago and many things have changed so far. But honestly, even writing for you seems difficult because it makes me feel vulnerable. So, if I turn my vulnerability to Jesus, I feel free. He whispered "Fabi, write to me, express your thoughts to me," then the creativity flowed like a river. I just needed to touch base with him and let him know how thankful I am for what he has done.
His ways are incredible because they are not as limited as mine. It's interesting to look back to the time God taught me about human trafficking and modern day slavery for the first time. It was through a school project that I knew about this issue and about LightForce. I love the way God brought me to LFI, although I had no idea about his plans. The way he introduced some beautiful strangers to me; strangers that I consider my family now and encourage and champion me every time I need it. And even though I had many misconceptions about prostitution or human trafficking, he trained me through his mercy and his love.
I feel so grateful because God has been giving me a new identity as his daughter while I love on and grab coffee with these men and women who are slaves of fear and sin just as I once was. When I feel frustrated he reminds me he cares more about them than I can possibly care in my imperfection. He is working on their lives as he works on mine.
I appreciate how God brings words like – process, story, vulnerability, justice, freedom – to my mind because they become stronger every single morning when I open my eyes. He has been giving me a new understanding of his word. Jesus said that blessed are those who mourn and suffer because they will be comforted by him. How grateful we need to be for those struggles and trials because he takes us by his hand through this journey while he refines our hearts as gold with the other hand. And although this healing process might hurt, it's okay because he is making us new creatures, new vessels.
I want Jesus to be the protagonist of my story. I want to get rid of this filthy ego. Now I understand that we are called to love on people no matter their sins and conditions. No matter if they are pastors, prostitutes, pimps or politicians. It really doesn't matter who gets the recognition of "saving victims" because God saved everyone equally. We are his instruments; he invests in us with an everlasting love so we can invest in others. We just need to starve for righteousness and justice, so we can be filled with him.
In the last weeks he has reminded me the way he loved David; the way God chose him to lead his people. Even though David was only a shepherd to the eyes of the world, David truly knew who he was in God. He understood the process of strengthening his faith by killing the lion and the bear before he killed the giant. We just need to love on people and destroy our ego and fears in order to kill this giant called slavery. This is God's battle and we are part of it.